Swift Taxi Cabs accept Cash and Card / Contactless Payments whenever you're travelling with us
*Maximum contactless spend: £100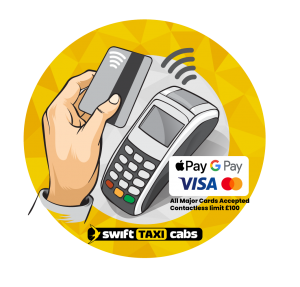 We may ask you to pre pay your journey if you're booking with us between 12am & 5am to guarantee your journey with Swift Taxi Cabs
Booking Terms and Conditions
Terms & Conditions of online bookings:

Unless a full address and working contact number is provided we are unable to send a car.
Online bookings are only to be made for journeys being paid for by cash or Card.
All journeys with Swift Taxi Cabs must be pre-booked using one of the booking methods described on the Website.
Any journey that costs £50 or more must be paid for within 7 days of your booking. No refund will be given if you cancel within 24 hours of your booking.
All journeys to the Railway, Bus or Coach station must be booked for pick up at least 30 mins before drop off in order to guarantee the connection.
Lost property left in an Swift Taxi Cabs vehicle will be returned to the Office. Please contact us to arrange collection or drop off of your lost property. Lost Property not collected within 3 months of the journey becomes the property of Swift Taxi Cabs who will arrange for disposal of the Item.
You shall be responsible for the behaviour of all the passengers in the vehicle during the journey. You will be charged £100 to cover cleaning costs in the unlikely event of the vehicle being soiled by any passenger!
Eating, drinking and/or smoking in the cars are not permitted.
All children travelling during the journey should be restrained in a manner appropriate to their age, weight and height. Suitable child seats should wherever possible be supplied and fitted by the child's parents.
Swift Taxi Cabs will not carry more passengers than its insurance or licensing allows.
If you have any comments or complaints about the service we have provided, please contact the office, by phone, text or by email info@swifttaxicabs.com.
All telephone calls are recorded for monitoring purposes.
These terms and conditions do not remove or affect your statutory rights.